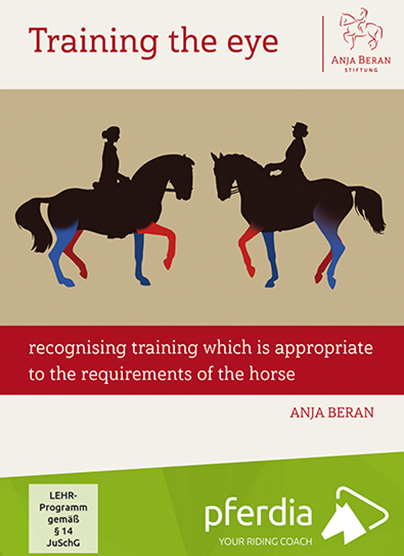 NEW RELEASE
TRAINING THE EYE
Now available on DVD!
The successful presentation by Anja Beran "TRAINING THE EYE – recognising training which is appropriate to the requirements of the horse" has now also been released on DVD. The DVD features 100 informative minutes on this topic and is available from pferdia for €34.90. You can order the DVD here in the Boutique – our online shop!
SEMINAR TIP
Anja Beran at the Bavarian Main and State Stud Farm Schwaiganger
"Training of young horses according to classical principles" seminar
On Saturday 14 April, at 15.00h, the Bavarian Principal and State Stud of Schwaiganger invites you to a seminar with Anja Beran and veterinary specialist for chiropractic (A) Elisabeth Albescu. At this three-hour event the reasons why training according to classical principles is the only way which leads to healthy and motivated riding horses will be clearly explained from a theoretical as well as practical perspective. Register at the Main and State Stud Farm Schwaiganger here.