pre sales price until 28. May 2023 11:59pm GERMAN TIME ZONE: 290 Euro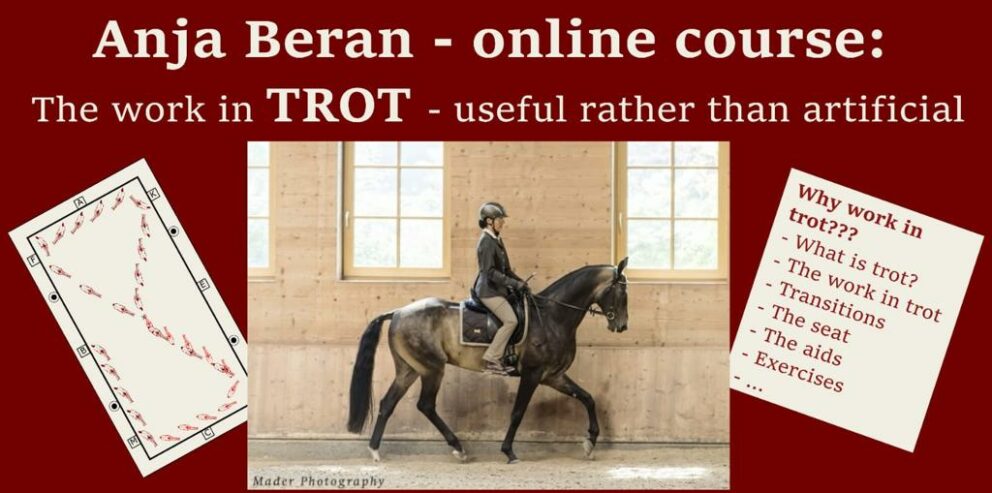 6 chapters about the TROT
After we have already covered the walk and canter in detail as an online course, the last of the 3 basic gaits now follows – the TROT! An incredibly high value is placed on the trot these days – does it deserve it? What does useful work in the trot look like for the horse? What does it depend on? Is the trot getting further and further away from the horse's nature?
All this is what this course wants to teach you….
Materials are available ONLINE for 6 months from the start of the course and are completely available as DOWNLOAD
Timetable:
>> All informations and the registration here:
Sunday: 28.05.2023 11:59pm German time zone: Deadline for the pre sales price
Monday: 29.05.2023 Start with chapter 1
Friday: 09.06.2023 1. Q&A Session
Monday: 12.06.2023 Chapter 2
Friday: 23.06.2023 2. Q&A Session
Monday: 26.06.2023 Chapter 3
Friday: 07.07.2023 3. Q&A Session
Monday: 10.07.2023 Chapter 4
Friday: 21.07.2023 4. Q&A Session
Monday: 24.07.2023 Chapter 5
Friday: 04.08.2023 5. Q&A Session
Monday: 07.08.2023 Chapter 6
Friday: 18.08.2023 6. Q&A Session
The individual chapters:
Basics of trotting – the theory
Seat and aids
Young horses and raising trot
Work in trot
Transitions
Crookedness and riding in counter flexion at the tro
The course includes:
Theory videos
Audio files of the theory – so you can easily listen to the theory on the way!
Riding videos
Exercises
Handout to print ou
Closed Facebook group
Closed Facebook group for exchange between course participants and live Q&A session for each chapter! Recording of the Q&A session will be made available on the course platform – for all those who cannot be there live.