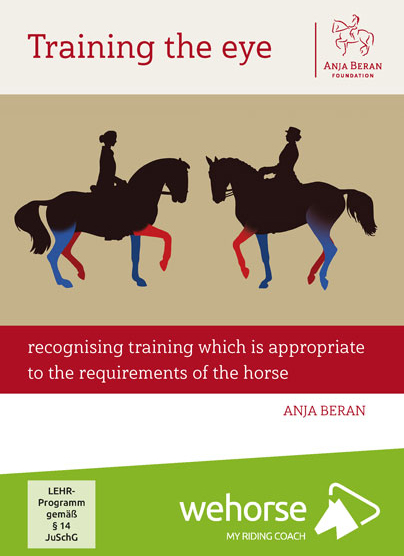 BESTSELLER
TRAINING THE EYE
Available on DVD and online at wehorse.com
The successful presentation by Anja Beran "TRAINING THE EYE – recognising training which is appropriate to the requirements of the horse" has also been released on DVD. You can order the DVD here in the Boutique – our online shop!
27.07.-01.08.2020
10th International Classical Dressage Workshop – Get the Spirit!
Riding in harmony and lightness with Anja Beran & Vera Munderloh
This particularly special event has been taking place at Gut Rosenhof for nine years now: learning & inspiration, training for the horses well-being, meet like-minded people from all over the world! The International Workshop is of interest to riders of all levels when the horses well-being is in mind. Meanwhile guests from nearly 20 different countries have attended this exclusive an established workshop at our idyllic training facility Gut Rosenhof. >> Subscribe here!