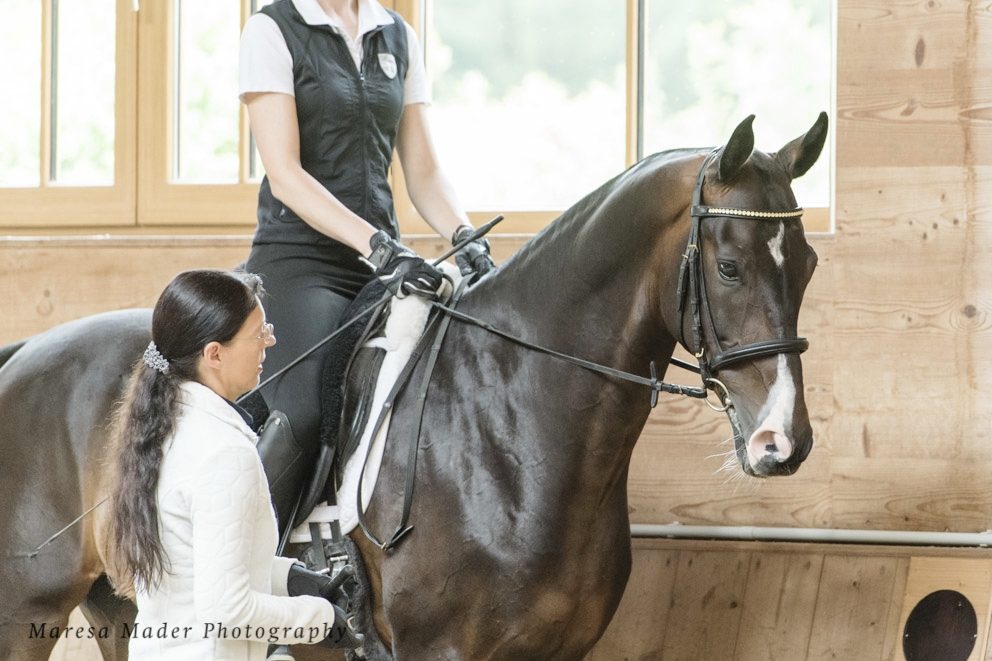 10th International Classical Dressage Workshop "Get the Spirit" with Anja Beran in English language on 1st to 6th of August 2022 at Gut Rosenhof, Germany
"Riding in Harmony and Lightness"
Learning & Inspiration * Training for the horses well-being * Meet like-minded people from all over the world * with Anja Beran and her team
10 a.m. — 1 p.m.
Morning program
3 p.m. — 5 p.m.
Afternoon program
Price per day: 100 €
Course overview:
Insight into Classical Dressage with Anja Beran & her team
Every day the workshop takes place between 10 a.m. and 1 p.m. and continues between 3 p.m. and 5 p.m.
Work with different horses, from breaking-In to high school movements, also work in-hand and long-reining
Every day a different theme, introduced by a theoretical part before working with a wide variety of horses. The week schedule see below
Plenty of opportunities to ask questions and participate in intensive discussions
Wednesday will be free for guests to organise their own activities.
The entire event will take place in English.
Everybody is welcome to attend our workshop for one or several days, if you don't have the possibility to join us for a whole week.
The workshop is aimed at riders of all levels (both professionals and amateurs) when the horses well-being is in mind.
This particularly special event has been taking place at Gut Rosenhof for ten years now, and we are always pleased to welcome back the numerous regular workshop participants who come back again to Gut Rosenhof every year.
The talks in English are very understandable – even if English is not your native language.
---
Program of the 10th International Workshop – Get the Spirit!
1st day Monday (01.08.): gymnasticising/exercising the horse in walk
2nd day Tuesday (02.08.): gymnasticising/exercising the horse in trot considering the natural crookedness of the horse
3rd day Wednesday (03.08.): free time at your own disposal
4th day Thursday (04.08.): canter work
5th day Friday (05.08.): work in hand, spanish walk, circus lessons and riding in side saddle
6th day Saturday (06.8.): piaffe and passage
The lessons take place every day from 10 am to 1 pm and from 3 pm to 5 pm. If desired you can book catering for lunch.
---
Who is the workshop aimed at?
It is of interest to riders of all levels (both professionals and hobby level) when the horses well-being is in mind. To riders of horses at all ages and all training levels. All kind of horse breeds, rehab horses and problem horses. Meanwhile guests from nearly 20 different countries have attended this exclusive and established workshop at our idyllic training facility Gut Rosenhof.
Location:
Gut Rosenhof is the home of about 45 horses, and all kind of other animals like camels, goats, dogs, cats, pigs, poultry, pigeons, ducks, geese, deers. It is a place which conveys harmony, relaxation and peace to people working and learning here. Gut Rosenhof is situated in the beautiful Pre Alps about 70 minutes by car southwest from Munich, Germany.
Registration:
Please send an email to: info@anjaberan.de
It is also possible to attend the workshop for single days only.
For any further questions please do not hesitate to contact us.
We would be very happy about your registration!
See you in August 2022 🙂
Anja Beran & Team
Gut Rosenhof, Rudratsried 7,
87651 Bidingen, Germany
info@anjaberan.de
www.anjaberan.com