The yearly Symposium of the Anja Beran Foundation in Circus Krone, Munich
The yearly Training Horses with Feeling and Respect Symposium – with Jana Lacey-Krone and Anja Beran is to be held on November in Circus Krone, Munich.The main theme this year will be announced in good time at www.anjaberan.com as well as on Facebook.
Admission: 10.00 h
Start: 11.00 h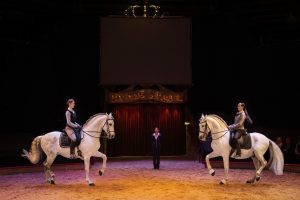 Moderators and speakers: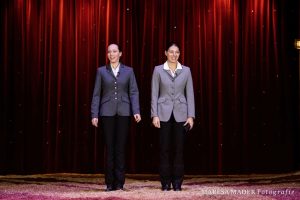 Jana Lacey-Krone and Anja Beran have been working together since 1990. Both of them are fervently dedicated to handling horses with feeling and respect. In this context, they are also firm believers in the benefits of classical training according to the principles of the classical masters. This also involves – although they both belong to the younger generation – representing and practising conservative values such as diligence, discipline, punctuality, humility and respect. Because both Jana and Anna consider these qualities to be a fundamental prerequisite for long-term success.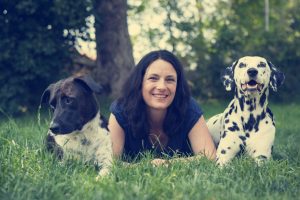 Veterinary specialist for chiropractic (A) Elisabeth Albescu spent many years working with horses in the conventional school medicine context and began to specialise in chiropractic and acupuncture ten years ago. She meanwhile visits and treats horses all over Bavaria and Austria.
The Anja Beran Foundation:
Classical training makes horses happy and helps them to remain healthy and able to perform until an advanced age. Unfortunately, early signs of deterioration, stress or defence actions on the part of the horses are very common nowadays. The Anja Beran Foundation's principal concern is to educate better trainers who treat their pupils and horses with respect, benevolence and humility. To achieve this, the foundation provides talented young riders with an intensive six-year training programme. Further information is available at: Anja Beran Foundation

Venue:
The heated winter quarters of Circus Krone offers an ideal infrastructure, which is also quite easily accessible due to the location in the centre of Munich. Spectators all have a close-up view and, irrespective of where they are sitting, are able to follow everything which is happening in the manège. The historical background of Circus Krone, as far as traditional horse training is concerned, completes the circle. Virtually all the famous equestrian masters in history either rode at the circus or trained horses for it. James Fillis, Francois Baucher, Gustav Steinbrecht and also Nuno Oliveira or Dr. Reiner Klimke, just to mention a few.
Circus Krone Munich
Marsstr. 43
80335 Munich
+49 (0)89 / 54 58 000
Prices & Tickets:
Adults € 39.90 (incl. fees)
children (up to 12 years) € 34.90 (incl. fees)
Tickets are available at all well-known ticket agencies as well as at:
München Ticket: +49 (0)180 / 54 81 81 81* www.muenchenticket.de
CTS Eventim: +49 (0)180 / 55 700 70 *www.eventim.de
Circus Krone Ticket Sales: +49 (0)89 / 54 58 000 Marsstr. 43, 80335 München (Mo.- Fr. from 09:00 h – 17:00 h)
* € 0.14/min, max. € 0.42/min. from the mobile network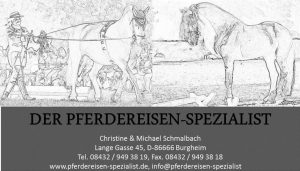 Organised bus trip to the symposium:
Pick ups available in Neuburg, Burgheim, Donauwörth etc. along the A8 Dasing – Sulzemoos to Munich
Bus trip: including entrance ticket € 69.00 per person
Entrance tickets available at a special rate (own travel arrangements/without bus) € 37.00 per person
More information and reservations at: DER PFERDEREISEN-SPEZIALIST, Tel. +49 (0)8432/949 38 19,
www.pferdereisen-spezialist.de