Dear Mrs. Beran, your whole commitment, so to speak your entire life is dedicated to Classical Dressage. What does that mean precisely?
Since childhood it was clear for me that I would like to spend my life with horses. Early on I realized that the only way to respectful and healthy riding leads through Classical Dressage. Here dressage is there FOR the horse, not the horse for dressage. Every horse will be gymnasticised after a thorough analysis regarding its individual strengths and weaknesses by logically structured gymnastics, so it can hold its rider without being harmed physically. A horse trained this way is brilliant under his rider and shines in grace and beauty. Not only does the horse benefit from Classical Dressage but also the rider profits strongly from it! Whoever has had the opportunity to sit on a horse trained in such a way knows what I mean. But riding as art goes deeper: Colonel v. Heydebreck said quite rightly "Don´t ever forget: dressage is the most difficult of all forms of art, because it demands body, character and mind!" In this spirit dressage sees itself as a form of school of life, in which today often forgotten virtues like discipline, diligence, politeness, respect, sense of responsibility and love for the living creature have elementary significance. A rider, who is ready to follow this path, will be enriched in his life in a way which is indefinitely valuable in every respect. That is what I feel in my life as a trainer every single day for already more than 30 years: I don´t want to miss a day and always meet new challenges which drive me and increase my experiences. My goal is to get this sensitive and respectful treatment of horses through to as many riders and horse lovers as possible.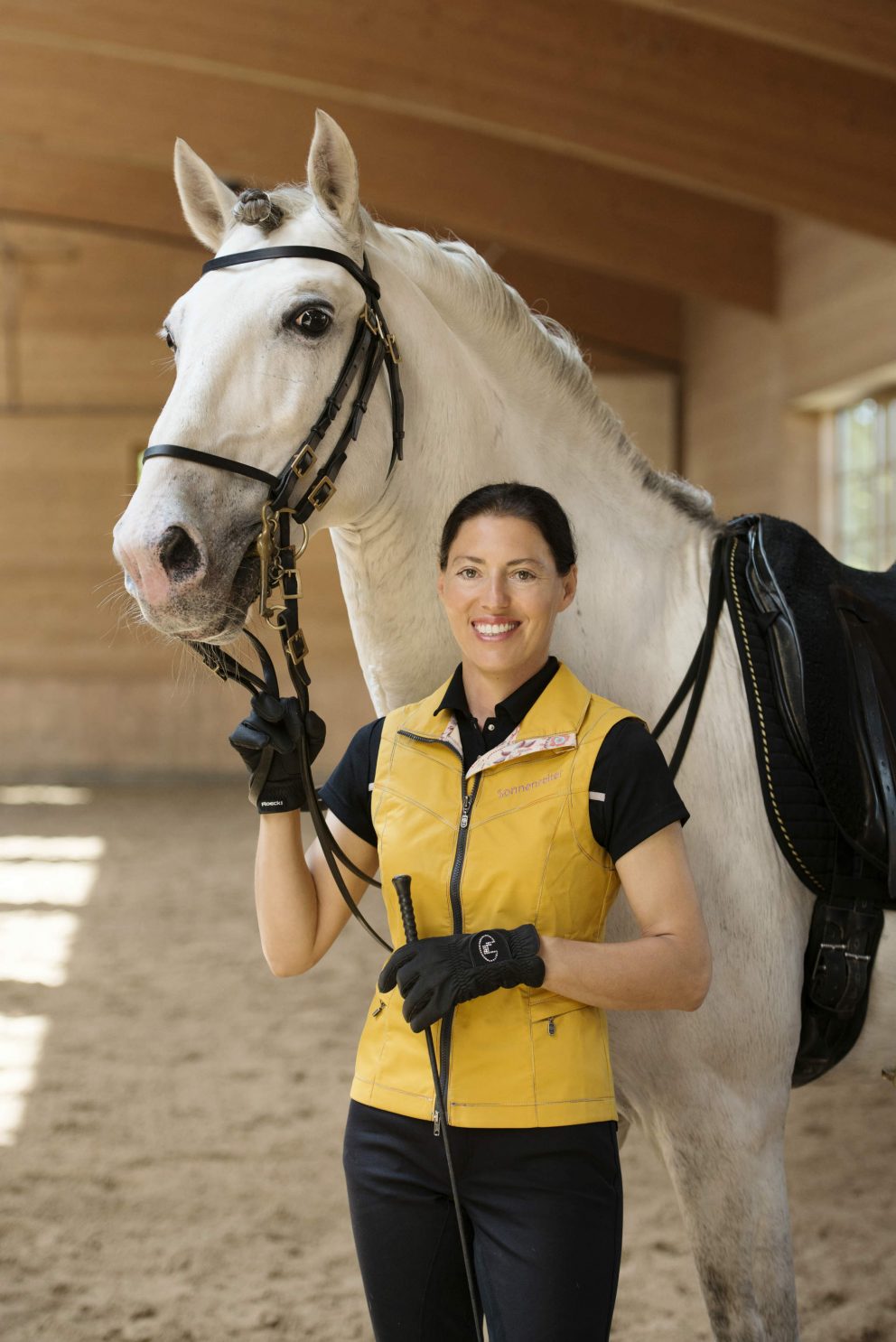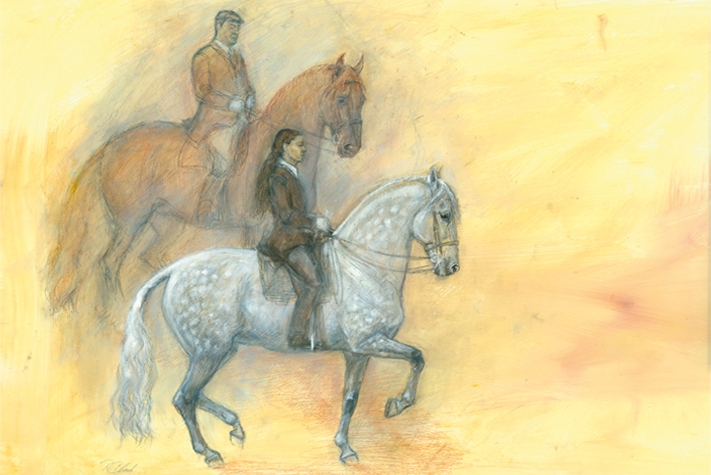 "It is important for me to create images of horse-friendly riding by role models."
In 2009 this wish even led to establishing "Anja Beran Foundation" which is committed to preservation and promotion of Classical Dressage as well as animal welfare and nature protection. How are you realising these aims in this day and age which is affected by the fast pace and increasing marketisation?
Indeed, the social environment isn´t an easy field nowadays more than ever for a metier like Classical Dressage. On the other hand, the mistaken tracks of our modern life often gets more and more people to a return to tradition and values, to nature and respect for our fellow creatures. After all we – at least in the wealthy industrialised countries – have the opportunity for the first time in human history to give back the horse, which served us for thousands of years and advanced human evolution like no other fellow creature, what we owe the horse: recognition, respect and love! Against this background I would like to support interested riders and horse lovers in the best way by means of the Anja Beran Foundation to tread this path with their horses. Of course there is no silver bullet, because nowadays there is often a lack of time and money for sound classical training – but also often simply a lack of will. L´art pour art, the art for the sake of art, used to be reserved solely to the nobility in riding for a reason. Fortunately, now we live in a free, equal society and the way to riding on its own account is open to more people than ever. However, the problem with that is that a great number of people eager to learn are opposed to a very small number of teachers and an even smaller number of school masters. Today it´s common for untrained riders to sit on untrained horses – that´s no winning for both sides, sometimes it´s even dangerous! However, this situation cannot easily be changed. So it´s my way to bring my know-how by modern communication and media to as many interested riders, trainers, veterinarians, osteopaths, breeders, saddlers and all people dealing with horses as possible. In doing so it´s important for me to impart old knowledge up-to-date and latest scientific findings practically. And it´s a matter of particular concern to me to create images of horse-friendly riding by role models. Because the rider respectively the trainer has to train his eye to create inner images which help him to put theory into practice in a correct way. Today, above all, when we painfully miss role models in equestrian sport and when in leisure riding self-proclaimed gurus mislead innocent and trustful horse-lovers, we should make an effort to make a "good impression" of riding. Because it must not come to the point that animal-rights activists have to argue us riders one day out of our passion for the benefits of the horses!
Which support can you give riders and horse lovers?
Our offer is as extensive as ambitious: Together with my first rider Vera Munderloh I run an international training yard with approx. 40 horses, mostly stallions, in the Bavarian alpine upland at Gut Rosenhof. A handful of very well-trained horses of the Anja Beran Foundation live here, who serve the riding education in theory and practice. Furthermore, we take in horses from all over the world for horse education and training or correction. Some of them stay with us their whole lives by conviction of their owners. Gut Rosenhof is also venue of our Sunday Morning working sessions with varying programmes at the afternoon, respectively for our Dressage Salon in the winter months and for seminars with particular main topics. For our international audience we offer our International Workshop "Get the Spirit!" in English language once a year every July. Riders from all over the world – more and more also from German speaking areas – are gathering to immerse themselves for one week in horse training according to classical principles. All events involve theoretical foundations as well as practical demonstrations. There is always the possibility to ask questions. Moreover, our library offers all visitors at Gut Rosenhof an unique hippological collection and the suitable surroundings to engross their minds in the offered equestrian literature undisturbed. Outside of Gut Rosenhof we offer numerous external events and seminars, mostly in cooperation with organiser friends. Towards the end of our event season one highlight is our annual symposium of the Anja Beran Foundation "Sentimental and respectful horse training" at Circus Krone in Munich. Here one main subject in theory and practice will be treated for one whole day every year, where also external lecturers will speak. Training with your own horse is possible at Gut Rosenhof as well as at our worldwide external seminars abroad for participants. Our constantly increasing range of lecture offerings can now be booked worldwide for your own event live on-site. For your continuing equestrian education at home there is a whole slew of books and DVDs from me available by now. I also publish articles in professional magazines regularly. Our offers can be acquired conveniently in our Online-Shop, at our events or at the market. From the very beginning we also have worked together with the biggest online-video portal wehorse (formerly pferdia). The film crew from wehorse visits us regularly at Gut Rosenhof and also at some external events to produce new educational films. So our offer of online videos increases steadily and offers an excellent possibility to accompany us every time and everywhere at the training of horse and rider.
"Classical Dressage is the basis for every kind of riding!"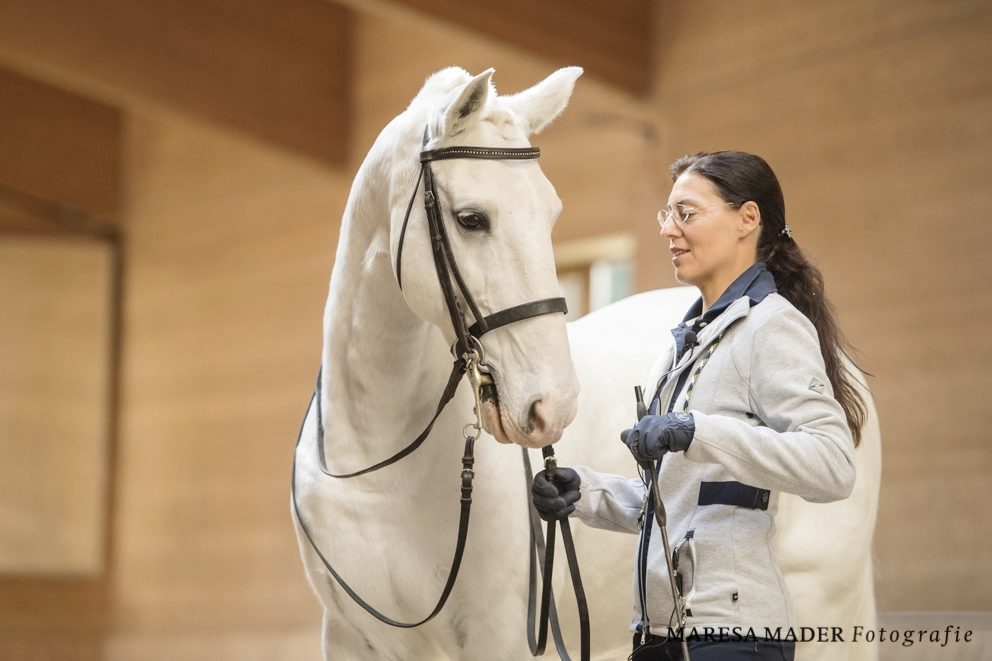 To what kind of rider, to which horse breed, to which section of riding is your offer specific to?
It is very important for me to emphasise that Classical Dressage is basis for EVERY kind of riding, independent of breed and of the aim you would like to achieve after basic education with your horse. An eventing horse, which is to manage a challenging all-terrain course one day, is also entitled to a horse-friendly basic education as a dressage horse, which can show lessons in the square according to its nature with a certain maturity and education. And also the Haflinger, with whom you enjoy extended rides through nature at the weekends has also to learn to carry his rider first. Because one thing is clear: horses are not born to carry a rider at its back! Only a horse-friendly education with enough time and patience make a reliable partner out of the flight animal horse, which is able to carry us without harm. Classical dressage is characterised by not demanding anything from the horse what is contrary to its nature. The lessons of high school of riding have their origins in the natural display of stallions. We never demand imitated moves, which lead to tensions and wear. A rider, who is interested in classical dressage, doesn´t have to have the lessons of high school in mind immediately. It is not about the goal, it is about the way: even at the basis in handling of horses ONLY education regarding classical principles leads to a healthy, pleased horse, which follows its rider trustfully and obediently! That´s why it would make me happy if as many riders as possible reflect on this way. Everyone as far as it is possible with your horse within the scope of your possibilities – for the benefit of your horse and ultimately also for your pleasure!
We wish you as many companions as possible at this horse-friendly and fulfilling way!